Jump to section:
Pick a port
What else to know about Alaska vehicle shipping
Conclusion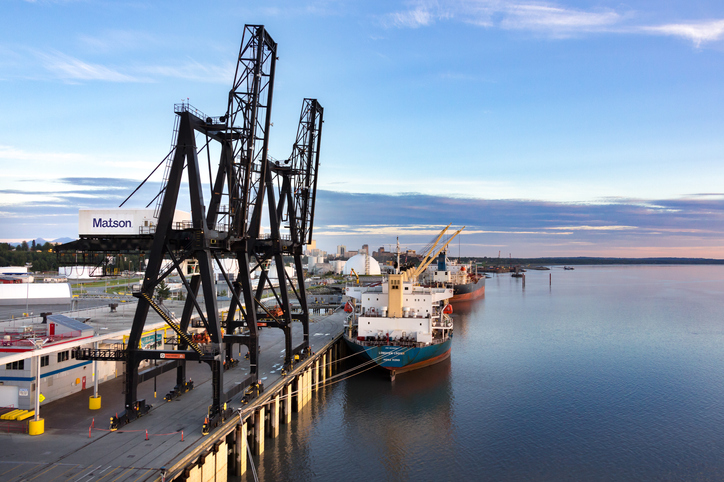 Pick a port
When you ship your car outside of the continental United States, you will have to pick it up at a port. This includes Alaska because your car will be transported on a ship to Alaska after it reaches the west coast rather than being driven through Canada. Driving through Canada would require crossing the US/Canada border twice and that could cause big delays in overall transit time.
Fortunately, when you ship your car with Alaska Car Transport, you will have several options in terms of the port that you can choose to pick your car up from. You can choose to have your car delivered at the ports at Anchorage, Fairbanks, Dutch Harbor, Kodiak, Juneau, Ketchikan, Sitka, Petersburg, Wrangell, Craig, Kake, Hoonah, Haines, Skagway, Yakutat, Cordova, Thorne Bay, and Valdez. Before you go to get your car at the port, call the port to check the times that they are open. Some ports may be closed for an hour for lunch, and some may require an appointment.

What else to know about Alaska vehicle shipping
Other than the fact that you have to pick your car up at the port when you are shipping a car to Alaska, there is not much difference from any other car shipment. You will still need to prepare for the shipment as you typically would by getting the exterior of the car washed and removing any valuables/personal items. You or someone you know would also need to be present for both the pickup and delivery of the vehicle. The price of your shipment will always vary based upon factors such as the distance of the shipment, the time of the year that you choose to ship and fuel cost at the time of the shipment.
However, there are a few additional things that could possibly be different. Your transit time will likely be a day to three days longer than typical shipments due to the transition from ground to sea transit. Also, shipping availability could be more scarce based on inclement weather events in Alaska over the winter. So, be sure you book your shipment as far in advanced as possible.

Conclusion
When you ship a car to Alaska, regardless of where you are shipping it from, your vehicle will need to be dropped off at the port. The upside is that you have twenty choices in terms of ports for your car delivery. That includes Anchorage, Fairbanks, Juneau and many more. Your vehicle transport will be pretty similar to typical car shipments other than your car being dropped off at the port and the possibility of a slightly longer transit time due to the ground to sea transfer.