Jump to section:


What kinds of animals you might find crossing the road in Alaska
What to do when you see an animal crossing the road
Final word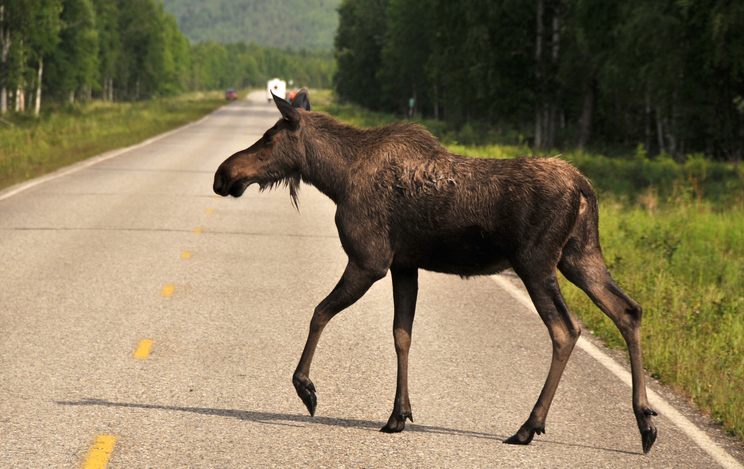 What kinds of animals you might find crossing the road in Alaska
Alaska is full of wonderful wildlife from wolves to moose. Unfortunately, these animals often make their way onto roadways which is dangerous for both themselves and anyone driving in that area. That is why you always need to keep your focus on the road and be prepared to stop for animals crossing the road when you are driving in Alaska.
The types of animals that you could see out in the road in Alaska can include deer, moose, foxes, bears and more. If you hit one of these animals in a best-case scenario, you will feel terrible and there will be some damage to your vehicle. In a much worse case scenario, there could be severe damage to your vehicle as well as injuries occurring to you and/or your passengers. The point is that you will want to avoid hitting one of these animals at all costs.

What to do when you see an animal crossing the road
If you are driving along in Alaska and you see an animal crossing the road or standing in the road, slow down and stop as soon as you see them. Put your high beams on so you can see if any other animals are near by as many animals tend to travel in groups. Finally, if you are driving and you are about to hit an animal without time to stop completely, brake, prepare for impact and avoiding swerving. Swerving will likely lead to a much worse accident with more damage to your vehicle as well as injuries to you and your passengers.

Final word
Alaska's roads are some of the most dangerous places to drive in the world due to low visibility, desolate conditions, and inclement weather. However, they can also be extremely dangerous because of frequent and sudden animal crossings. Animals such as wolves, deer, foxes bears, and moose can run out into the road at any moment. This is why you must pay close attention when you are driving in Alaska. If you do see an animal in the road, be sure to slow down, stop and turn your high beams on. If you cannot avoid hitting an animal in the road, try your best not to swerve. Swerving can possibly make the situation much worse. If you are shipping any type of vehicle to or from Alaska, call us at (907) 331-3100 today for a free and instant quote!