Jump to section:


When you can put your studded tires back on
The benefit of studded snow tires
Final word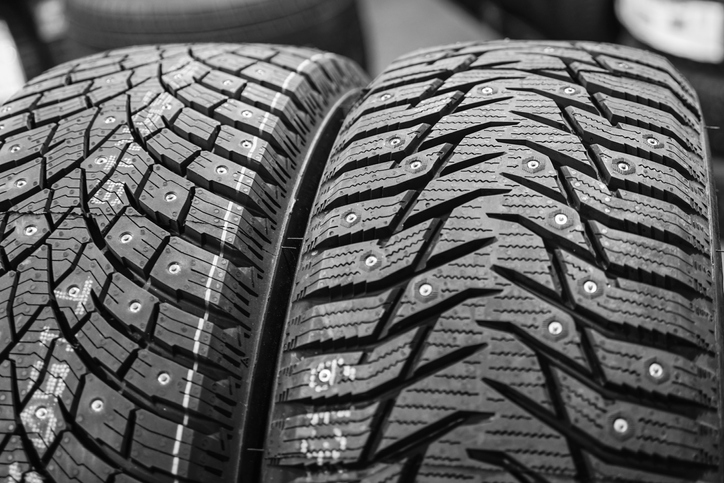 When you can put your studded tires back on
In Alaska, it is legal to have studded tires on your vehicle from September 30th until April 15th of the next year. This only applies to paved roads. For unpaved roads, you may use studded tires year-round. For those of you driving on roads in Alaska north of sixty degrees latitude, these dates are slightly extended, the studded tire season will range from September 15th until May 1st in those areas.
The reason for this is that studded tires can easily cause damage to road surfaces that are not covered with snow or ice. This can lead to costly repairs being needed to be performed on the roads which can cause the need to raise taxes. Thus, the state government wants to avoid that. A recent study also found that studded tires can increase the amount of distance that you need to brake on roads without snow or ice by about ten percent. So, it is for safety's sake too that these tires are illegal outside of snow season in Alaska.
If you are caught in Alaska using studded tires on your vehicle out of season, you will be ticketed and fined fifty dollars per tire, which will likely add up to two hundred dollars as you will likely have chosen to use studded tires on all four wheels.

The benefit of studded snow tires
Although changing your tires twice a year every year might seem like an inconvenience, studded tires can be a big help in Alaska where roads are quite frequently covered with snow and or ice. Studded tires end up providing the best possible traction. The "studs" on your tire are small metal spikes that break and penetrate the snow and ice which gives your tires a much better grip as a result. Because the studs actually penetrate snow and ice rather than just handle them better, it makes them a much better option than other snow tire options out there.

Final word
Studded tires can be a huge help on snowy and icy roads in Alaska because they give you the best traction of any tire in these particular conditions. However, when the roads are not full of ice and/or snow these tires can cause your car to take longer to brake as well as damage paved roads. As a result, it is illegal to have these tires on your car during warmer months. If you are caught with studded tires out-of-season, you will be fined fifty dollars for each tire that has studs.