Jump to section:


When you can legally use your hazard lights
Safety advice for using your hazard lights
Final word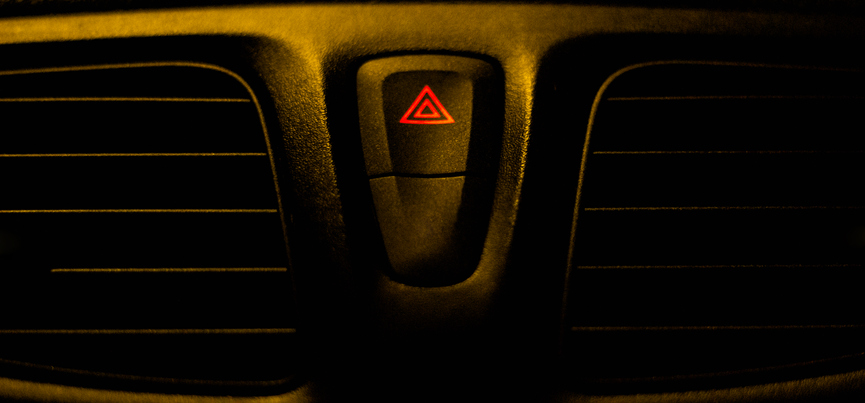 When you can legally use your hazard lights
Your vehicle's hazard lights are quite important because in an emergency situation, they alert other drivers that something is going on and they should only drive near your vehicle with extreme caution. In Alaska, the use of your hazard lights is not permitted at all while your car is in motion. So, this means that you can only use your hazard lights legally in Alaska when you are parked. If you use your hazards to signify you are driving slower than normal for example, you might get pulled over and get a ticket for improper use of your hazards.
This can still be extremely useful. There are times where you might need to pull over due to inclement weather conditions such as a blizzard. If this is the case, you should pull over as far as you can and put your hazards on as you wait it out. The same goes for if you get a flat tire or are having engine issues. Anytime that you need to pull over in Alaska, you should use your hazard lights because visibility for other drivers is not always the best.

Safety advice for using your hazard lights
We already mentioned that, in Alaska, it is illegal to use your hazard lights when you are driving. However, there are a few situations when using your hazards while driving is generally accepted. One of these situations is if you are experiencing a medical emergency such as chest pains and are unable to pull over right away. Another is if you are a part of a funeral procession.
You should never use your cars "blinkers" for something unnecessary such as when you are transporting large cargo and need to drive under the speed limit. You should also never use you blinkers to temporarily park illegally in a loading zone, handicapped spot or anywhere else. Doing any of these can easily lead to a ticket.

Final word
You should only use your car's hazard lights or "blinkers" when it is completely necessary to do so. If you ever need to pull over in Alaska, you should definitely use your hazards because inclement weather conditions can really lower visibility for other drivers on the road. Finally, in Alaska, it is illegal to use your hazards when driving although there are situations where you might need to such as if you are part of a funeral procession. Do not use your hazards as an excuse to something illegal such as park illegally.