Jump to section:


Credit card skimmers
Other gas pump scams
Final word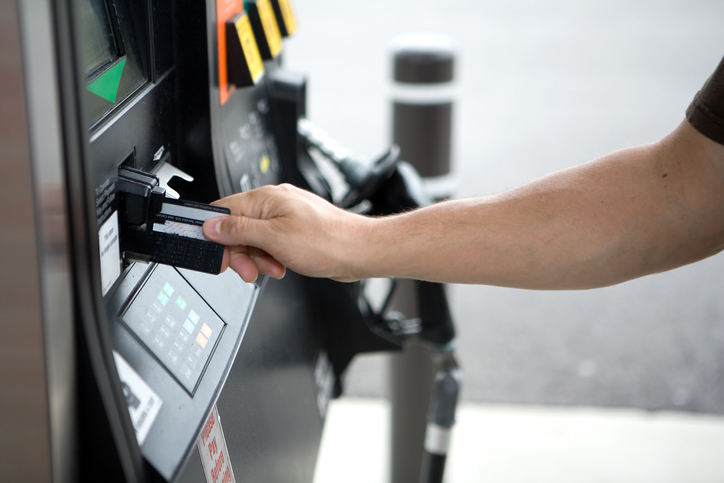 Credit card skimmers
Anytime that you use your credit card, you should be on the lookout for devices known as skimmers that will steal your credit card information for thieves to use. However, gas pumps are likely the most common place that you will find a credit card skimmer. That is because ATMs and typical point of sales in stores usually have an employee close by who will notice someone doing something suspicious. Thus, it is difficult but not completely impossible to install a skimmer in those locations.
However, at gas stations, there is usually only one employee working at a time. That employee typically works inside behind the counter. The gas pumps are outside, plus there are several of them. This makes installing a skimmer much easier than doing so at most places which makes gas pumps a prime target for these devices. Plus, many gas stations close at night leaving access to the pumps for thieves to go completely unchecked when installing a credit card skimmer device.
The best way to avoid having your card skimmed and your information stolen at the pump is to pay cash as frequently as you can for gas. Otherwise, you should know how to check for skimmers. You can do this by holding and gently trying to move the part where you swipe your card up and down. If it seems loose, it might be a skimmer. Also, check another pump or two, if your credit swipe device does not look the same as the others, this can also indicate a skimmer.

Other gas pump scams
There are two other main scams that criminals can commit involving gas pumps. The first is waiting on the other side of the pump and switching your gas nozzle with theirs before you pull up. Then, after you pay, they actually start pumping the gas as you mistakenly think that you are. By the time that you realize that you are not pumping gas they will be gone. So always look up and check that the correct gas line and nozzle is on your side of the pump both before and after you pay.
The other scam is that a criminal can sneak up to your passenger side door and grab your valuables from inside your car as you pump gas. This is due to the fact that many people commonly leave their car unlocked as they pump gas. The obvious way to combat this from happening is to always lock your vehicle as you fill it up.

Final word
The gas pump can be an easy place for a thief to rip you off. They can get your credit card information via a skimming device; they can steal from your vehicle, and they even literally steal the gas that you just paid for. Always be on the lookout for these things and do whatever you can to prevent them from happening to you.