Jump to section:
How to react to a chip in your windshield
How to avoid chips in your windshield
Conclusion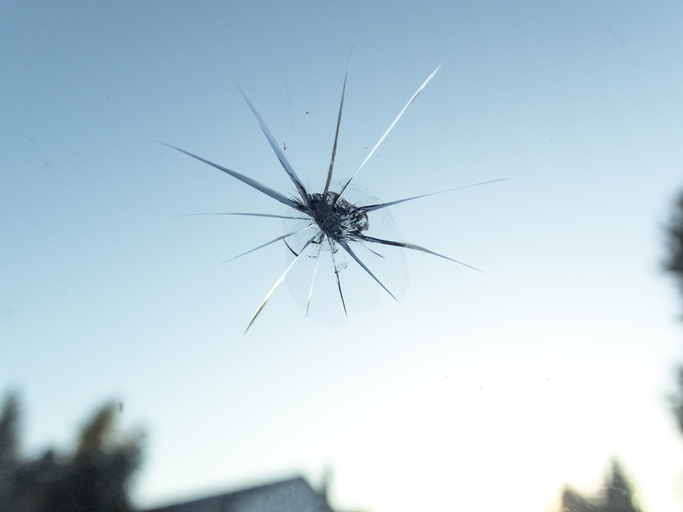 How to react to a chip in your windshield
Some people will choose to ignore a new chip in their windshield and that is a mistake, in Alaska or anywhere else. A chip in your windshield can start to crack which can easily end up getting bigger and bigger. Cracks in your windshield will really weaken its effectiveness in protecting you from debris as well as put you at risk of getting an expensive ticket.
That is why as soon as you get a chip in your windshield, you should take care of it right away. You will have a few options for getting a chip in your windshield repaired. You could choose to take care of it yourself by getting a windshield repair kit. This will be the least expensive but most complicated and time-consuming option. If you go this route, follow the directions that come with the kit carefully. You can also find instructional videos on sites like YouTube as well if you need to see the process in action first.
You also have the option of getting professional glass repair for your chip. There are two types of this service, taking your car to a glass repair shop and mobile glass repair. Taking your car to a shop will take less time but it will be a bit less expensive. Mobile glass repair will cost a bit more but it will be much more convenient because the service will send one of their qualified repair people to your location and they will get the job done while you go about your day within an hour or two in most cases.

How to avoid chips in your windshield
If you want to skip the hassle of getting a chip in your windshield repaired, you should try your best to avoid getting one in the first place. Sometimes getting a chip will be unavoidable, however, you should do what you can to minimize the chance of getting one.
Doing so will actually not be that difficult. You can start by driving more slowly. By driving slower there will be less of a chance of debris coming up off of the road and striking your windshield. You can also stay away from larger vehicles like eighteen wheelers and vehicles that are driving very fast and or aggressively. Always try to avoid driving off-road and/or on gravel. Finally, do whatever is in your power to keep your distance from the vehicle driving in front of you.

Conclusion
Chips in your car's windshield can be a definite inconvenience. However, they can turn into a major problem and can even become quite dangerous for you and your passengers. If you get a chip, get it fixed as soon as you can. You can do it yourself with the right repair kit, you can bring your car into the shop, or you can hire a mobile glass repair service. If you drive safely, avoid off-roading and keep your distance from the car that is driving in front of you, it can go a long way in terms of preventing these chips.