Jump to:


Where can I go off-road driving in Alaska?
When should I go off-roading in Alaska?
Advice for off-road driving in Alaska
Conclusion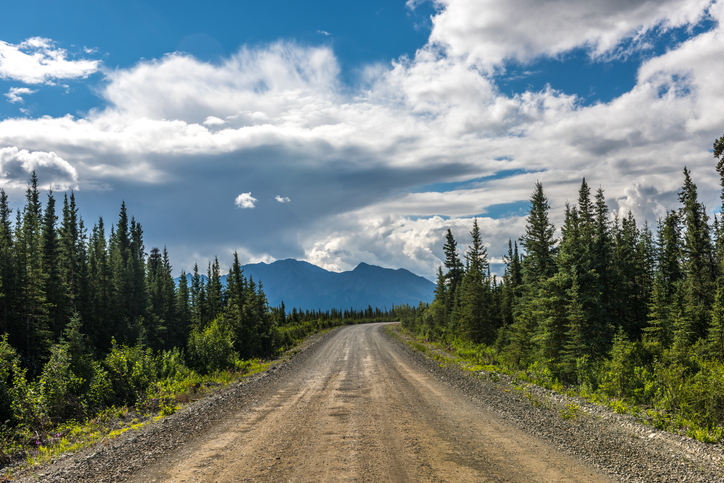 Where can I go off-road driving in Alaska?
There are a few great spots that you can try your hand at off-roading in Alaska. They are:
Knik Glacier Trail – This is one of the best off-roading experiences that you can have in all of Alaska. The trail is fairly difficult to traverse. You should only try to travel on this trail with a jeep or truck that has reliable snow tires. Be careful when crossing rivers because cars have been swept away in the past. There is also a considerable amount of traffic from ATVs, so be cautious.
Kings River Trail – Kings River Trail is one of the easier off-road trails you can traverse in Alaska. It is almost five miles long and has some renowned fishing. It is not recommended to try this trail when the weather is bad. There are often many ATVs and dirt bikes on this trail as well.
Bald Mountain Trail – This is one of the more difficult off-road trails to travel in Alaska. The trail includes great valley views. It often gets wet and muddy on the trail so good tires for off-roading will be needed. No camping is allowed here.
Craigie Creek Road – Known for its wildlife, this trail is moderate in its difficulty. Potential wildlife spotting includes grizzlies and eagles. The trail includes an old mining cabin as well as waterfalls. Dependable off-road tires are recommended for this trip as well.
When should I go off-roading in Alaska?
It is always best to go off-roading in Alaska during warmer months. During the colder months, roads can easily become impassable, even with the sturdiest trucks, due to snow and ice quite easily.
However, in the warmer months in spring and summer, it is important to check the weather before you head out on one of these trails. This is because rain and wind can cause issues such as flooding and excessive mud on the trails. You can check the weather for a particular trail on this site.

Advice for off-road driving in Alaska
The most important things to remember about off-roading in Alaska are that you should always be careful and you should always be prepared for an emergency. Also, be sure to check the trail conditions and weather prior to heading out for the day.
As far as being prepared, make sure you have a spare off-road tire for your vehicle. Also, be sure that you have the right emergency supplies such as extra food and water, an emergency medical kit, a tool kit, gloves and a dependable way to communicate with help if need be such as a satellite phone (cell phones often do not get service in the remote areas on the trails).
You should also lower your tire pressure before you venture out on the trails. Doing so will allow the tires of your car more flexibility when going over an obstacle like rocks. However, you should only do so with caution because lowering your tire pressure too far could end up leading to damage to your tire including a flat tire. An important thing to remember is that you should only let air pressure out of your tires after you get off the highway and you should re-inflate them right after you get off of the trail.
Do not go off-roading alone either. Having a buddy with you is a great way to ensure a good level of safety and fun.
Finally, be sure that you get your car serviced prior to any off-roading that you might be considering. It is important to have the overall condition of your car checked as well as specific things such as fluid levels.

Conclusion
Off-roading in Alaska is a great way to experience the excellent nature and terrain that the great state has to offer. You just need to be sure that you are experienced or with someone experienced when you venture out to do so. You also need to be sure that you are in a vehicle that is capable of going off-road.
If you are heading to Alaska and need your off-road vehicle shipped there, Alaska Car Transport can help you out. Just give us a call today at (888) 777-2123.