Jump to section:


Driving behind a snowplow
Safely passing a snowplow
Final word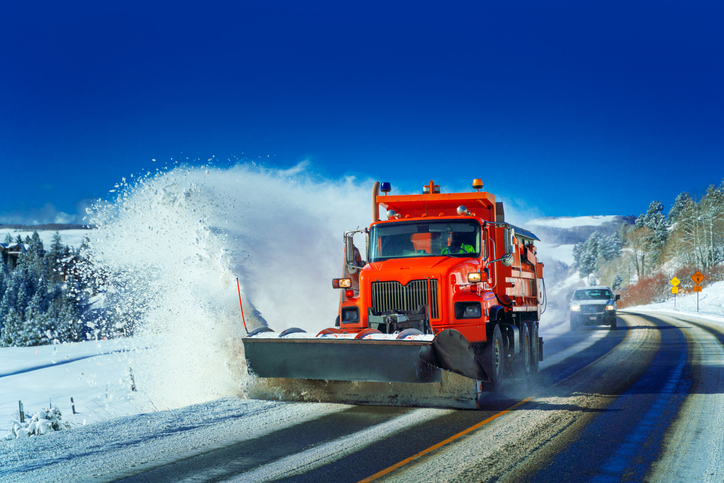 Driving behind a snowplow
Over the winter months in Alaska, there is a good possibility that you will find yourself driving behind a snowplow at some point. When you do, it is extremely important that you stay safe and avoid what could possibly be a dangerous situation. Snowplows will have less focus on the traffic around them as well as less of a field of vision due to the job they are performing as they drive. They will also be moving a lot of snow which can partially move back onto the roadway after being plowed.
That is why you should keep your distance when driving behind a snowplow. In general, the recommendation is that you stay at least fifteen car lengths behind a snowplow when you are driving behind it. This will mean driving the same speed or slower than the plow which will be considerably under the speed limit so, realize your travel time will increase significantly. Finally, you should realize that there will still be patches of snow and ice left on the road after a plow goes over it as it is not possible for a plow to do a completely perfect job in one pass. Thus, you should still expect slippery conditions on the road which has already been plowed.

Safely passing a snowplow
It is legal and accepted driving behavior if you need to pass a snowplow. However, it is not the safest thing you can do. Although, we realize you still might need to be somewhere at a certain time even right after a snowstorm. So, if you do pass a snowplow make sure you do so as safely and cautiously as possible.
In order to pass a snowplow correctly and safely you first should only pass when they are not actively plowing snow. You will be able to tell because you will not see snow being thrown off the road to one side or the other of the plow. You should also be sure that the lane next to the snowplow has been cleared of snow before you attempt to pass. Be sure to also give ample signal and that you do not pass too closely or spend too much time in the snowplow's blind spot when you are passing.

Final word
Anytime that you are driving right after inclement winter weather, you need to take it slow and cautiously. This is especially true when you are driving behind a snowplow. You need to allow them to do their job so roads can be cleared in a timely and thorough manner. You should always keep a distance of at least fifteen car lengths behind them. Never pass them when they are actively plowing and if you do pass them when they are not plowing, do so with extra caution.