Jump to section:


How to get a wheelchair into a car
Making your passenger safe and comfortable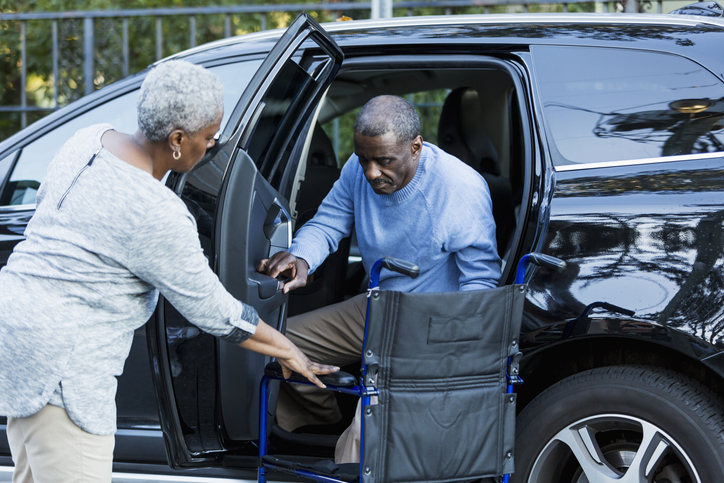 How to get a wheelchair into a car
Some of you may need to drive with someone at some point who usually or always requires the use of a wheelchair. If this is the case, you will need to be able to get their wheelchair into the car without damaging it and/or your vehicle. You also must ensure that the wheelchair will be easy to get out of the vehicle because your passenger will obviously need it again when you arrive at your destination. This is fairly simple but not everyone may know how to do it.
The first thing that you should do is to carefully assist your passenger into the vehicle which we will go further into later in the post. Once you have accomplished that, you will need to get the wheelchair into the car. Even if you are driving a smaller car, that will not be an issue because wheelchairs fold up so that they become essentially flat and compact which will save a ton of space. In order to properly fold up a wheelchair, you should first engage the wheel locks. Once you do that, hold one hand under the back of the seat and the other under the front. Then pull upwards with both hands and the chair will collapse inward AKA fold up. At this point, you can easily fit the wheelchair into your trunk or backseat.

Making your passenger safe and comfortable
Making your passenger that uses a wheelchair safe and comfortable in your vehicle will start with how you help them get into the car. This will begin by pushing them in the chair as close as possible to the vehicle passenger seat with the door already open. At this point, some people may be able to get into the car completely unassisted. If they can and that is what they wish to do, your job is done. If they require assistance, ask them what they need help with and then follow their instructions.
If they need full assistance and/or are unable to communicate, you can start assisting them by ensuring the wheelchair is locked in position, the seat in the car is moved back as far as possible and the foot and head rests are moved out of the way. Then, make sure their feet are flat and their legs are bent at a 90-degree angle as this will help you lift them. You should consider using a gait belt as well for this. Do not have them put their arms around you, if possible, ask them to put their hands on the arm rests as you lift and have them push up. Slowly and gently lift and place them in the car. Put their seatbelt on and adjust it and/or the headrest if need be.