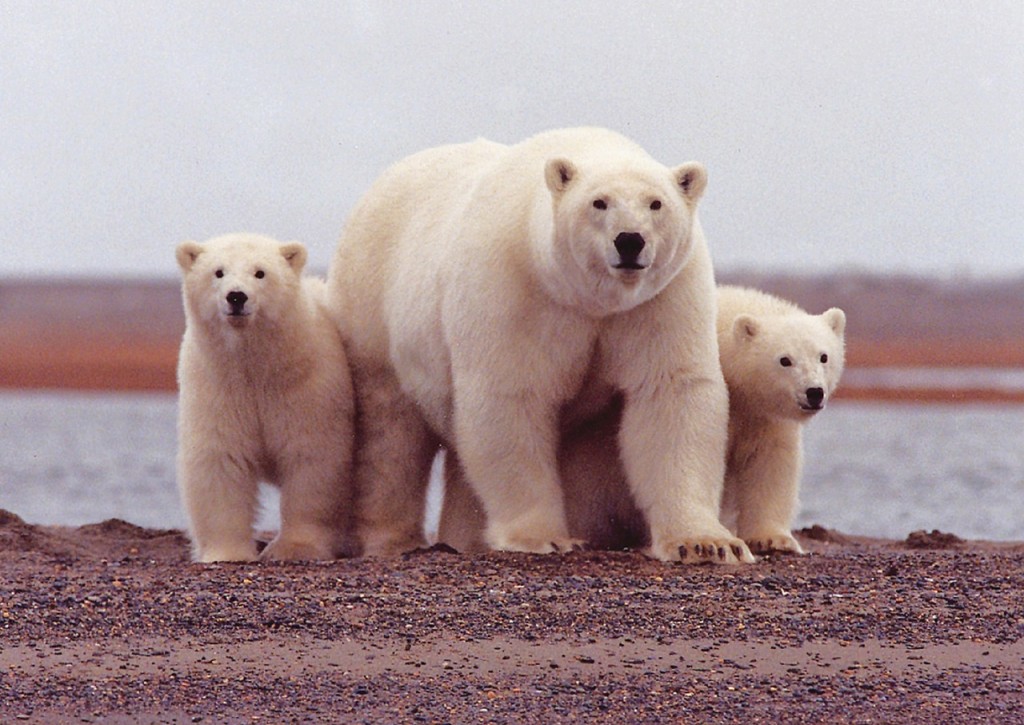 Most people associate Alaska with Glaciers, mountains and snow. Of course, there is so much more to Alaska than ice and snow. Alaska has some of the most glorious weather in the summer than anywhere else in the nation. Glistening lakes, waterfalls and the redefining of "long summer nights" is more of what Alaska has to offer. Some of Alaska's longest summer nights can last up to 21 hours in certain areas.
As a visitor to Alaska, you have a choice of adventures from which to choose; camping, hiking, surfing, waterway activities, and fishing just to name a few. If you've never been to Alaska, you might not think of it as the land of the eagle or home to moose crossings wherever you go, but the wildlife in Alaska is a collection like no other.
Wildlife by Land
When it comes to Alaska's land animals, you would think you were in an endless zoo. Alaska's terrain is filled with animals in their natural habitat, which is one of the biggest draws to the state.
The Bears of the Land
Alaska's terrain is home to both black and brown (grizzly) bears. As a visitor, you have many opportunities to see these bears. If you are camping, however, you don't want to see them up close and personal because you didn't secure your camping grub properly. Not only will you meet a bear up close and personal, you may also lose your dinner, as well. Even though the black bear is smaller than the grizzly, you'll more than likely want to visit Alaska's bears under different circumstances.
If you really want to view bears in Alaska, take a trip to bear camp instead. One such example is the Lake Clark National Park. At Lake Clark National Park Bear Camp, you will experience the true meaning of Alaska's nickname, "The Last Frontier." Access to this park is by air or by sea. Here you will experience the opportunity to view bear in their wilderness habitat. There truly is no place like this on earth where the raw environment and rugged wilderness are yours to view – a place where bears eat, fish and play.
Alaskan Moose – The Granddaddy of Them All
While they may seem slow and unresponsive moose are powerful in both size and stature. Moose can be up to 7 feet in height and that's not including those antlers and they can weigh thousands of pounds. Sometimes in Alaska, you don't have to go too far to view a moose. Sometimes on your drive on Turn Again Arm Drive, you may have to allot some extra time for moose crossing. Moose have been known to come into town for a visit or to check out your garbage pail to see what's good for the picking.
Caribou, mountain goats and dall sheep are among some of the land animals you get set your sights on in Alaska.
Denali National Park is the best place to see caribou, bears, and dall sheep all in one place.
Alaska Wildlife by Air
Of course, one of the most legendary, must-see and much-loved birds of the sky in Alaska is the eagle. You may have seen photos, read about or even viewed videos of the bald eagle. Nothing does it justice like seeing it up front. The Anchorage Coastal Wildlife Refuge might just be the best place to see such a sight. With its extensive boardwalk and helpful scopes, you might view more than a bald eagle. You may be able to catch a glimpse of migrating birds and floating swans along the marsh.
Eagle beach is another perfect spot for bald eagle sightings. You may find them perched on a rock waiting for some salmon or high in a tree waiting to swoop down and get some food.
The Alaska Chilkat Bald Eagle Preserve is another prime location to get acquainted with the elusive bald eagle.
Alaska by Sea
When you think of Alaska's wildlife, polar bears are one of the first things that may come to mind along with those bald eagles and bears. Even though they are found on land, polar bears hang out mostly by the sea ice, as it likes to stay close to its mode of transportation for getting its food – seals. If you've never seen a polar bear stand up, it's an awe-inspiring sight to see – they can stand up to 10 feet tall and their paws are an impressive yet intimidating sight to see.
Perhaps you would enjoy scheduling a tour with The Northern Alaska Tour Company or going on an Arctic Air Expedition leaving from Anchorage.
Another resident of the sea are its whales. Humpbacks, beluga and orca are among the whale sightings that are yours for the viewing in Alaska's waters. What would a trip to Alaska be without incorporating a whale watching tour into the mix? A tour from Seward, Homer or Prince William Sound will prove to be one of the most fascinating and awe-inspiring adventures on your trip to Alaska.
There are a host of whale viewing tours for your viewing pleasure. Once you have taken one, you will never be the same. Seeing a beluga whale at Beluga Point along the Seward Highway or taking a tour to view the orca, which is the largest member of the dolphin family, will be an experience that truly deserves the title of "once-in-a-lifetime."
With its range of wildlife from salmon to whales and from black bears to polar bears, it's no wonder that Alaska is known as the Last Frontier.