Jump to:
The basics about moving to Alaska
The best places to move to in Alaska
Tips for moving to Alaska
Conclusion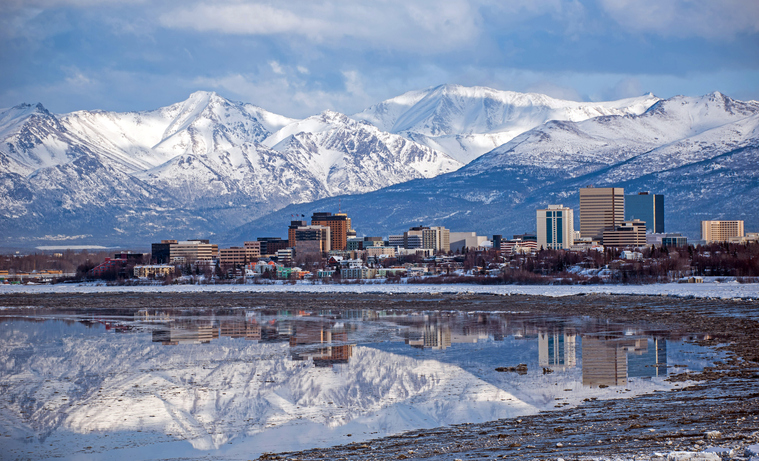 The basics about moving to Alaska
Alaska is a wonderful place to live, however, not everyone would absolutely love it. For example, if you cannot deal with the thought of living with some colder weather, the move to Alaska might not be for you. Alaska has other caveats too such as the wildlife and some periods in certain areas where the night lasts for weeks.
There are also things like the northern lights and the fact that the government pays you to live there to help incentivize you to live there. Either way, if you are moving to Alaska, you will need to be prepared.
You should know too that not all of Alaska is connected by roadways. There are some areas and places that are only accessible by boat and/or plane. Although the larger and more incorporated cities are easily accessible by road.
The people of Alaska are generally pretty friendly and helpful. However, some of them can be fairly reclusive and reluctant to speak to anyone they deem a stranger.
Overall, life in Alaska is quaint and charming. We definitely recommend that you give it a chance if you are considering it!

The best places to move to in Alaska
Anchorage – The biggest, most populated and most famous Alaskan city is number one on our list of best places to move to in Alaska. The city has almost three hundred thousand people living there according to a 2018 estimate. The climate has some extremes throughout the year averaging as low as 5 degrees in the winter to as high as 78 degrees in the summer. Jobs available are from a variety of fields including tourism, transportation, military, general business and more. The culture of Anchorage includes a performing arts center, multiple museums, college sports, the annual Iditarod sled race and more. Anchorage is also home to a variety of wildlife including bears and moose. It has a bunch of schools and a couple of hospitals that service the area.
Fairbanks – The second city on this list has a population of over thirty-two thousand people according to a 2018 estimation. Fairbanks has very cold weather sometimes. Temperatures can drop as low as 40 below zero but during the short yet warm summer, they can reach as high as 80 degrees Fahrenheit. The city also gets a considerable amount of snow each year. The economy is based around jobs in transportation and government primarily. The city has some nearby schools and hospitals that service the area.
Juneau – Alaska's capital is another great spot to move to on our list. There are a good number of jobs available in government, tourism and fishing. The city has a population of over thirty thousand according to a 2018 estimate. Temperatures are actually pretty moderate in Juneau. Most of the year, the temperature averages fall between 32 and 65 degrees Fahrenheit. The culture includes a professional theatre that produces plays as well as a few music festivals. It does rain or snow in Juneau over two hundred days a year on average. It has several schools and a hospital.
Ketchikan – Ketchikan is the next city on the list with a population of just over eight thousand people. The climate is pretty mild and wet with temperatures normally ranging from about 30 degrees Fahrenheit to 65 degrees Fahrenheit. There is also a considerable amount of rain throughout each year.
Badger – Badger is the last city on the list but it still deserves your consideration for moving. The city has a population of just over twenty thousand people. The most numerous jobs in Badger are in transportation, construction and retail. The city has some nearby schools and hospitals that service the area as well.
Tips for moving to Alaska
Prepare for the cost of living – The cost of living in Alaska is fairly high by comparison to many other places in the United States. This includes the cost of food and rent/property as well.
Get some warm winter clothes before you go – The winter months in most places can be particularly cold. Be sure to have what you need to in order to bundle up.
Be sure you stay there at least a year as a citizen – If you live in Alaska as a citizen for at least a year you will receive a permanent fund dividend. This is money that the state will pay you for living there. It's just under a thousand bucks per person each year.
Learn about specific safety precautions before you head there – There are things in Alaska such as bears and frostbite that you need to be aware of and how to avoid them. Do this before you travel to Alaska.
Get ready for odd daylight hours – In Alaska, there are periods in certain areas where the sun will not come up for extended periods and other times where it will not go down for extended periods. Research this before you head there so you are mentally prepared.
Conclusion
Alaska is definitely a state like no other. In fact, moving there will take some adjustments. However, that doesn't mean it is not a great place to live. You just need to be properly prepared to make a few changes. Once you do it can be a really nice place to live, work and raise a family.
Once you do make the decision to move to Alaska, you will have the decision of driving all the way there, selling your car and buying a new one, or shipping your car there. If you do decide to ship your car there, go with the experts at Puerto Rico Car Transport.