Jump to section:
Hiking 101
The best places for an easy hike in Alaska
Advice for hiking in Alaska
Final Word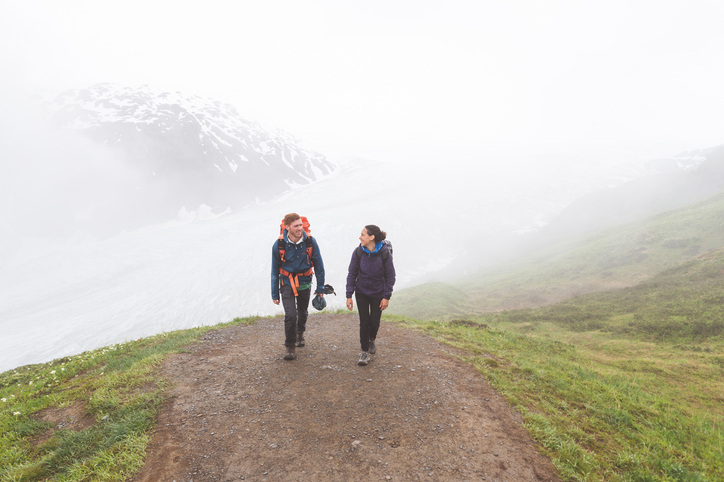 Hiking 101
Hiking in Alaska is a wonderful experience that you will want to take advantage of while you still can this year. The weather stays warm and the nights stay long until the middle of September. So, you can plan to go in the next few weeks or you can wait a few months until May when the weather is nice again.
Going for a hike in Alaska is also one of the best ways to see the Alaskan wilderness which includes amazing views of glaciers, forest, lakes, wildlife and more.
You can use this guide for helpful tips and info if it is your first-time hiking in Alaska. A few quick things to remember are to "leave no trace" which means clean up after yourself if you stop to eat or use rations of any kind and you should also always hike with great caution and awareness of your surroundings so that you can stay safe for the duration of your hike.

The best places for an easy hike in Alaska
The following hiking paths are all easier and shorter hikes, so as long as you have some basic know-how and a guide or someone with some expertise, these trails should pose no problem for you.
Advice for hiking in Alaska
Get the right gear – You have to make sure that you will bring all of the supplies that you need for your hike so you can enjoy it, but most importantly stay safe. A few of the necessary items to bring are: a compass, a hard-copy map, water, food, first aid supplies, and a flashlight.
Plan out your hike, top to bottom – Make sure that you are familiar with the trail that you chose to hike prior to your hike. You can carefully look over maps, check out photos and videos online and you can even to a quick drop-by prior to actually taking the hike.
Go with a buddy or a group – Do not venture out on any of these trails by yourself. Even the easier hikes can be much more dangerous by yourself. Besides, if something unforeseen does occur during your hike, you will have at least another person to rely on for help.
Check the weather often – You should never embark on a hike during inclement weather. There is simply just too much that can go wrong.
Dress properly – Make sure that you are dressed appropriately for the potentially rough terrain and outdoor conditions. This will include durable pants, long sleeves and hiking boots.
Final Word
Hiking in Alaska can be one of the better outdoor experiences that you can have while you are there. We strongly recommend that you go during the summer months which are mid-May through mid-September.