Jump to section:
The best day trips in Alaska
Sightseeing in Alaska with your car
Advice for taking a day trip in Alaska
Conclusion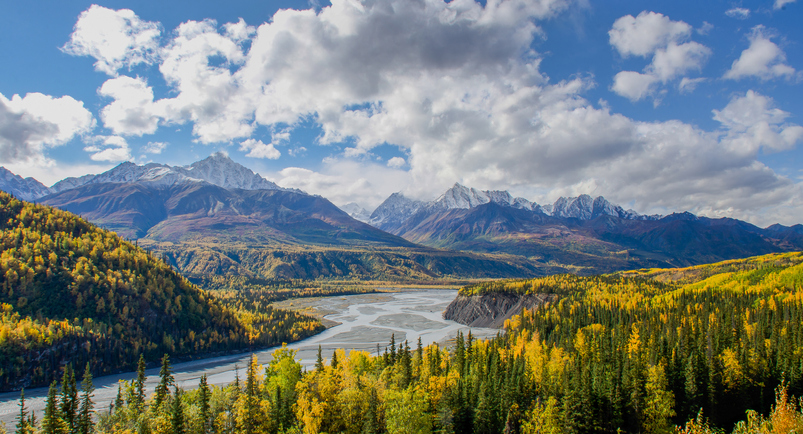 The best day trips in Alaska
Alaska has some of the more incredible day trips that you can take in the entire country. These trips offer great opportunity to sight-see and to experience the awesome expanse that is the Alaskan wilderness.
The top five day trips that you can take in Alaska are:
Kenai Fjords National Park – This is one of the most famous places in Alaska to visit for a day. Part of the attraction here is that the best way to see the park is on a day-long cruise. On top of taking in all the expansive beauty that the park itself has to offer, you might even see some whales along the way.
The Alaska Railroad – The Alaska Railroad is likely the best way to spend a day trip in Alaska without having to worry about doing much driving yourself. The railroad includes day trip routes through anchorage, Talkeetna, Denali, Fairbanks, Girdwood, Seward, Whittier, Portage and more. On these various day trips, you will be able to see bears, glaciers and the overall beauty of the great state of Alaska.
Chugach National Forest – This is one of the biggest forests in the entire country. This area is perfect for a day of hiking, biking, and kayaking.
Portage Valley – The Portage Valley is likely the best spot in Alaska to catch a view of a glacier. The aptly named Portage Glacier is the main attraction here. You can see it by hiking the Byron Glacier Trail to the very foot of the actual glacier itself.
Katamai National Park – Katamai National Park offers the wonderful opportunity to see bears, glaciers and even volcanoes. We recommend seeing the park by taking the seaplane.
Sightseeing in Alaska with your car
If you are going to be taking your car to sightsee in Alaska, you should keep a few things in mind. First of all, you should pay close attention to the forecast. Alaska is no stranger to inclement weather. The point of a day trip is to be able to get out and experience the sights, if the weather is bad, not only will you not be able to do that, you will have a hard time driving as well.
Next, you should have a GPS app like Waze on your phone for directions. However, you should also bring a hard copy paper map too. There are areas in Alaska where cell service is usually at a minimum so you might have no choice but to revert to using an actual map like the old days.
Finally, you should be prepared for a potential emergency situation. This includes having a spare tire and other emergency supplies such as road flares, food, water and a first aid kit. It is also advisable that you have a membership to an emergency roadside service program such as AAA.

Advice for taking a day trip in Alaska
Odds are that you will need to dress pretty warm – Obviously this will depend on what time of the year that you choose to visit but it can get pretty chilly and windy in many of the spots of the list, so be sure you at least bring a light jacket just in case.
Bring a camera or make sure that your phone is well charged – There will definitely be ample opportunities for pictures so be sure that you are ready.
Make sure you plan out the trip – Preparation is key to your success when it comes to a day trip in Alaska.
Bring food! – You won't want to get caught out in the Alaskan wilderness with no food, the day could easily be ruined if you need to spend it while you are overly hungry.
Don't venture too far – If you are taking a day-trip, you will not want to spend more than half the day traveling. So, make sure that the total distance to and from your destination will only take a couple hours maximum to travel.
Conclusion
Day trips in Alaska are a perfect way to experience all the gorgeous sights the state has to offer while only taking a day at a time to do so. Just make sure that you take the time to plan out the trip so that you do not have any issues such as inclement weather.