Jump to section:
How you can get your car to Fairbanks
What you can see in and near Fairbanks with your car
Tips for having a car in Fairbanks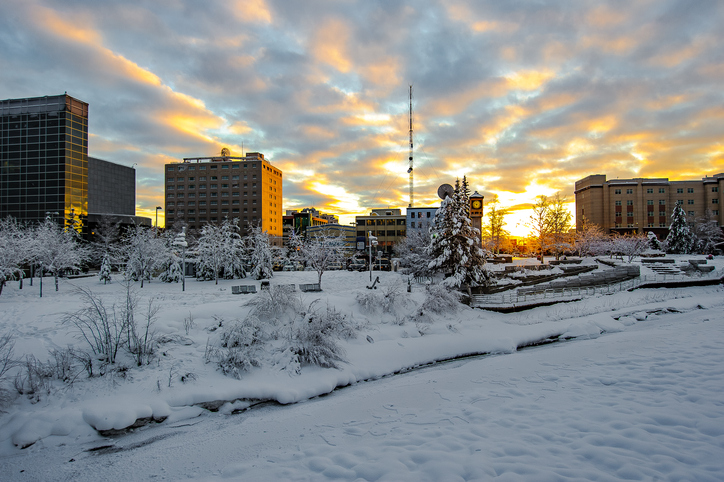 How you can get your car to Fairbanks
There are two primary ways for you to get your vehicle to Fairbanks, Alaska. You can drive it all the way there or you can have it shipped there. If you choose to drive your car to Fairbanks, Alaska, you should be aware of a few things first.
The first is that you will need to drive quite a long distance. If you drive from Seattle, Washington, the trip will take over forty hours of driving and will be over two thousand miles. Now imagine how long it will take to drive to Fairbanks from Los Angeles or New York. You will also need to drive through Canada to get there. This means you will need a passport and you will have a considerable wait at the borders twice during your trip.
That is why we recommend shipping your car to Fairbanks instead. This way you can take a relaxing and much quicker flight there rather than driving for several days. This will also give you more time to enjoy the great city of Fairbanks.

What you can see in and near Fairbanks with your car
Fairbanks does not have the tourist reputation that Anchorage, Alaska has. In the end, there really is no reason for this. Fairbanks is a wonderful place to visit and live. There are a bunch of wonderful sights to see and places to visit.
One such place is the Fountainhead Antique Auto Museum. Here, you can check out some incredible antique vehicles as well as see them driven around the grounds of the museum. The museum hours are fairly limited but admission only costs twelve dollars.
Another great stop in Fairbanks is the UA Museum of the North. This museum showcases tons of incredible exhibits from world war artifacts to prehistoric animals and dinosaurs. Admission only costs sixteen dollars.
On top of those great museums you will also be able to visit a few animal sanctuaries if you wish. This includes the Running Reindeer Ranch. Here you will be able to go on tours of the Alaskan forest where you can see some real live reindeer.
There are several other very notable points of interest in Fairbanks, Alaska. This includes a brewery, hot springs, a river walk and a viewing point of the transatlantic pipeline.

Tips for having a car in Fairbanks
Having your car in Fairbanks is, by far, the best way to be able to get around the great Alaskan city. Here are a few tips for owning a car in Fairbanks, Alaska:
Prepare for the winter roads – Winters in Fairbanks can bring tons of snow and ice. So, make sure that your car and your tires have been properly winterized.
Know where you are going if you are going to leave the city limits – Alaska is quite a large place. It is, by far, the largest state in the country. If you venture out of the city you could end up lost on the long highways of the state. This could potentially cost you hours of your time.
Parking – You can usually find parking on the street on Fairbanks without too much trouble. However, on weeks of large events in the city such as dog sled races you might need to look elsewhere for parking. There is a parking garage where you can park if you need and it will only cost about ten dollars for the day. The garage is located near Lacey and Noble Street.