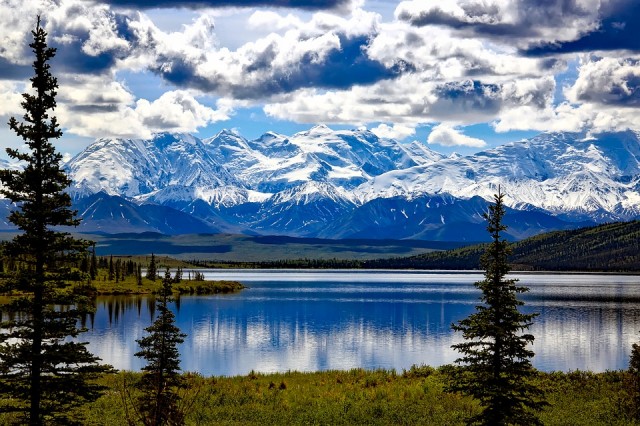 What Are the Best Months in Alaska?
Alaska's summer months are from mid- May to mid- September, making peak season mid- June to mid- August. Therefore, June, July, and August fall into the best months in Alaska to visit. Days during these months are considerably longer, which allows you to jam pack your days with activities.
May is considered one of the best months in Alaska because you can experience Alaska and all it has to offer without the huge crowds that occur during peak season. In May, you can explore Alaska with reduced crowds, lower fairs, and better climate to view wildlife. The reason wildlife viewing is better is due to the fact that it is not too hot yet for them. One wildlife you can expect to see in May is the humpback whale.
June 21st is the longest day of the year in Alaska and the sky is lit up all night long. On this day the sun only sleeps for about 4 hours. With that, you can expect warmer temperatures, and a drier climate. June is the driest of all the months in Alaska. Even though the temperatures are on the rise, you can still expect to see lingering snow well into mid- June.
July is considered one of the best months in Alaska due to its temperatures. In July you will experience the warmest temperatures. The water can get up to 64 degrees Fahrenheit. Alaskan King Salmon can be fished well into July and the waters have plentiful because July is peak for the fisheries. Since July is in the middle of peak season, you can expect to pay a bit more for hotels, excursions, and food. Places tend to charge more since they have a short season to make their money.
August is considered one of the best months in Alaska to see wildlife. You can expect to see black bears, grizzlies, and brown bears fishing for salmon in the rivers. In late August, thousands of Sandhill Cranes begin their migrate through Fairbanks. However, if you are going to be in Alaska for August, be sure to pack an umbrella or poncho. August is also known to be the rainiest month of all the summer months.
You think about which of the best months in Alaska works well for you, and let us worry about shipping your car there so you can enjoy all Alaska has to offer in the summer.