Jump to section:
What cold weather does to your tires
How snow and ice affect your tires
Tire safety in Alaska
Conclusion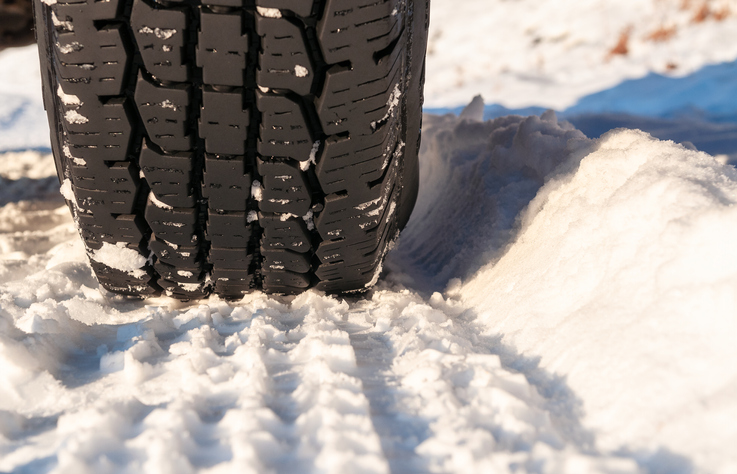 What cold weather does to your tires
When it gets cold, air contracts. Thus, cold weather causes tire pressure to drop. Tires that are underinflated can cause increased friction and overall wear and tear on your tires. Low tire pressure can also lead to flats and blowouts which can quickly lead to an accident. So, you should check your tire pressure on a weekly basis when you have a car in Alaska.

How snow and ice affect your tires
During the winter months in Alaska, you will face a considerable amount of snow and ice on the road. This will directly lead to a loss of traction. That is why you should get winter tires in Alaska. These tires have deeper treads which grip the road better leading to better traction and a better ability to steer.
There are a few types of tires that you can choose from. The first type are all-season tires. All-season tires are believed to be fine for winter driving because of their name. However, that is not true. They are fine for driving in any temperature but not for driving on ice and snow.
You can also opt to use studless winter tires. As you might expect from the name, studless winter tires do not have studs. They are the most modern type of tire that you can get for winter driving. They have advanced treads and advanced rubber. The treads on the tires do not become stiff and frozen when driving on snow and ice. Regular and all-season tires are unable to do this. The difference is in the chemistry and makeup of the rubber used to make the tires.
Finally, you can choose to get studded winter tires. These tires come with metal studs that cut into snow and ice for more traction. The issue with studded tires is that they get such good traction that the studs can dig into the asphalt which causes damage to roads. Thus, many states have made it illegal for drivers to use them during non-winter months. In Alaska, it is illegal to use studded tires from the middle of April through the end of September. So, the drawback here is that you will need to get your tires changed twice annually.

Tire safety in Alaska
The most important thing about your tires is that they are not putting you in any danger when you drive. Use these tips to keep your tires functioning correctly and safely:
Rotate – Getting your tires rotated once each year can reduce uneven wear on certain tires and will keep them more effective for longer.
Pressure – Check your tire pressure every week, especially when the weather gets much colder or warmer.
Inspection – When you check your tire pressure, make sure that you also conduct a visual inspection of each tire. Look for leaks or signs of increased wear. If you find any of these, take your car into a tire shop and see if you need new tires or if you can get your current ones repaired.
Mileage – As a general rule, you can use new tires for about 50,000 miles of driving. Mark down your mileage when you get new tires, then get new ones after 50,000 miles if they have not already worn out by then.
Conclusion
The cold weather in Alaskan winter can cause the pressure in your tires to drop significantly. You need to make sure that all of your tire's pressure are at the right level in order to avoid a flat or blowout which can be very dangerous.
The frequent snow and ice can cause difficult and hazardous driving conditions. Your tires are quite important when it comes to being able to navigate this. This is why you should have or switch to some sort of winter tire before the snow season in Alaska each year.