Jump to section:
Winterize now if you have not already
Caution goes a long way when driving in the snow
Prepare for the worst
General advice for driving in winter conditions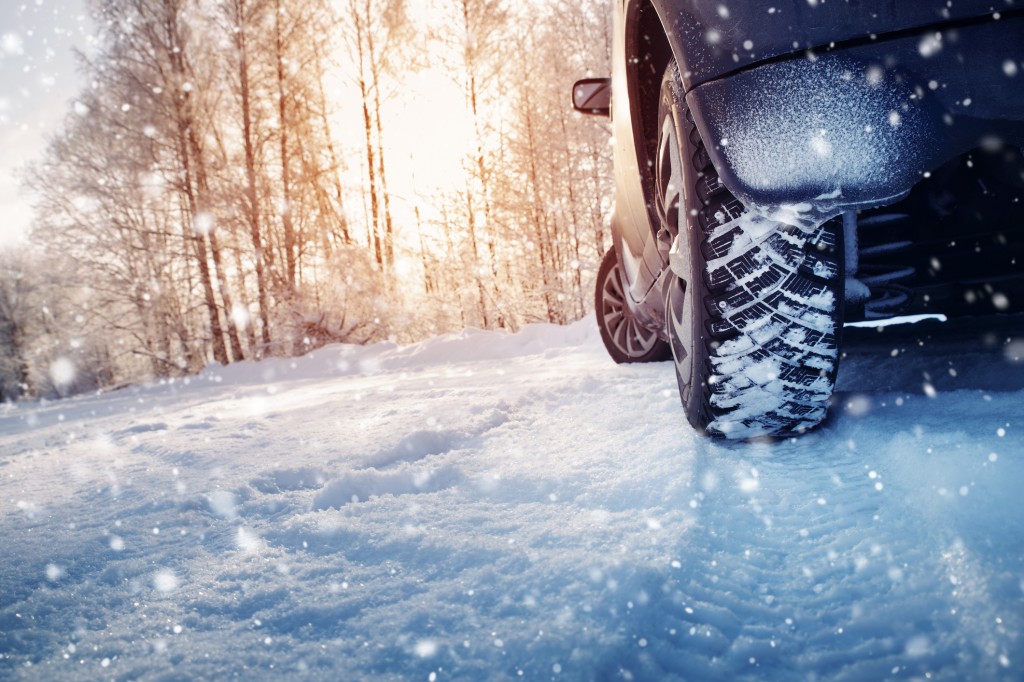 Winterize now if you have not already
When it comes to driving in winter conditions in Alaska, preparation is one of the most important parts. This means getting your car winterized before the snow really starts to fall. If you are reading this, you have likely already waited too long so get your car winterized as soon as possible.
In order to get your car winterized properly for the harsh Alaskan winter, there will be a few things that need to be completed. First, you should switch to winter tires. These tires are specifically designed for driving in the snow versus regular tires which can easily slip and slide.
Next, you will want to get winter windshield wipers installed as well. These wipers have rubber on them which goes a long way to keeping the blades from icing up. After this, you will want to make sure that you have windshield wiper fluid is completely full. You will also want to be sure that you keep at least a full spare bottle of windshield wiper fluid around. You will end up going through a lot of it over the course of the winter.
You should also get some higher visibility headlights installed. These will help you see through heavy and snowy conditions during the winter in Alaska.
You can take care of all of these things yourself or you can have it all done by making an appointment with a mechanic who can do it for you. Just be sure that you make an appointment as soon as possible because it might be a week or two before the mechanic will be able to squeeze you in.

Caution goes a long way when driving in the snow
There is no such thing as "driving too carefully" when it comes to driving in the snow. Slowing down and taking tasks such as turning and breaking carefully will really help you avoid sliding into an accident.
Always keep your eyes on the road and take extra time to brake and turn if you need to. In most cars these days, you will have an anti-lock braking system. What this does is it essentially "pumps the brakes" for you in order to prevent the brakes from locking up. So, you should keep your foot placed firmly on the brake.
When you are steering in the snow and ice make sure that you do not ever slam down on the brakes because this can make steering nearly impossible. If you do happen to start skidding, be sure to remain calm, steer into the direction of the skid and very mildly accelerate in order to correct the skid.

Prepare for the worst
This might sound pessimistic, but it will definitely help if you are prepared for an emergency situation. First, you should have an emergency kit packed and prepared in your car.
This will include jumper cables, a flashlight, an ice scraper, some non-perishable food and water, a bag of sand or kitty litter, a shovel, extra anti-freeze, some extra gloves, a first aid kit and whatever else that you think you might need if you were to get stuck in the snow.
Next, you should always have your cell phone with you and charged. Try to avoid driving in areas where cell phone reception is poor during a winter storm because getting stuck there could be incredibly dangerous.

General advice for driving in winter conditions
When you are driving in the snow and the ice, use the following pieces of advice to have the safest trip possible:
Keep your fuel filled – You should always gas up often during the winter. This will help prevent the fuel lines from freezing up in extremely cold temperatures, but, more importantly, you will be able to keep the car running and stay warm longer if you get stuck anywhere.
Always keep an eye on the forecast – You should always watch the forecast to make sure that you do not end up accidentally getting caught out on the road during a particularly bad storm.
Keep the car winterized – Make sure that you keep your windshield wiper fluid throughout the winter. If you end up with any issues with your winter wipers or tires be sure that you get it fixed immediately.
Watch your tire pressure – During the much colder temperatures during the winter in Alaska, tire pressure can decrease quickly. So, check your tire pressure often and fill them up if need be.
Always clear your car off completely prior to hitting the road – You should take the necessary time to clear and snow and ice debris from your car before you start driving. This includes the sides and back of the car as well.