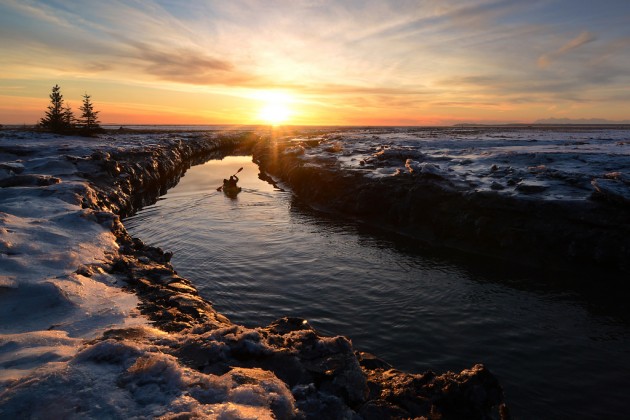 Truthfully, there is so much to see and do in Alaska that you are not at a loss for adventures. You can see Alaska by foot as you hike and camp in unchartered terrain or take a flightseeing adventure as you hover over massive glaciers to your destination. Take a wild ride on the river and spot some wild Alaskan sea life or pick blueberries and climb a mountain to name just a few more.
However, Alaska has some pretty unusual things to do and here are a few fun and adventurous ones:
The Great Alaskan Lumberjack Show
At the Great Alaskan Lumberjack Show you can watch as master lumberjacks battle it out to see who's the best lumberjack of them all. At the show, they will face off and see who's the best at chopping, sawing, and even ax throwing.
Witness the talent and skill it takes to throw an axe and hit the bullseye or how a lumberjack rolls when trying his feet at professional log rolling.
Alaska's Six Mile Creek
Want the ride of your lifetime? Then, Alaska's Six Mile Creek is the place to be for you. Six miles of white water rapids starting you off slow and raising the bar till you reach the crossroads of what was I thinking and this is awesome. Before you can even get your ride on, you have to don special protective gear that will keep you somewhat safe in the frigid freezing waters of Alaska and go for a swim. Once you can prove you can handle your swim, you're allowed to set sail so to speak down the rapid course. What makes this white rapid tour different from any other is that it is held in the icy waters of Alaska and the scenery is like none other.
Ocean Rafting
Just about everyone knows that Alaska is wet, wild and magnificent. Taking a tour while ocean rafting allows you the experience of getting wet, seeing the wild and experiencing the rough Alaskan waters. More importantly, you get to see some of Alaska's hidden wilderness treasures in the form of anemones and sea caves and abundant wildlife.
Get on the edge – the edge of a volcanic island that is as you make your way over the ocean and to the edge of the volcano. Explore as your jaw drops at the magnificent ride and the scenery along the way.
For a more extensive list of things to do in Alaska, check out this article here:
Awesome Things You Have to Do in Alaska
If you want to say you traveled like a wild adventurer, these three things will fit the bill perfectly. You'll come home with a tale to tell for generations to come.